With all the Hillary Clinton dreams and visions posted here, I wanted to share with you what I know might happen with Hillary. You may want to get your Bible out for this exciting venture, since I will use scripture to show a possible scenario. A duality between Bill & Hillary Clinton (future) VS. Ahab & Jezebel (past). Ahab was a wicked man and along with Jezebel who slayed the prophets of the Lord. (1 Kings 18:12-13) They also hunted down Elijah to slay him too. So we have Ahab & Jezebel in the past, to the future time with Bill & Hillary in which I will now explain the amazing duality. Elijah ALSO had a role in the past then, and coming up in the future tribulation also. (Malachi 4:5)
Here's the duality. Bill and Ahab were both wicked leaders. Ahab rebelled against the Lord and Bill worked for the world elite. Jezebel was wicked and Hillary is the "Jezebel" spirit of today! As we read back then in 1 Kings 19 we see Ahab and Jezebel hunting down Elijah to slain him. In the future is it still possible for Bill (Ahab) & Hillary (Jezebel) to hunt down Elijah? Let me explain the future possible revelation. In the photo below, it even says Hillary as predicted in the book of Revelation!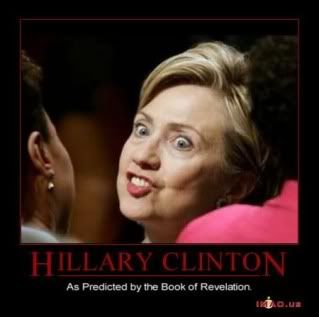 During the tribulation the Lord will send out His two witnesses. I believe Elijah to America (Malachi 4:5) and Moses to Israel (I forgot the verse, anyone know?) to preach the gospel of Christ and to repent. This message is for the people of both America and Israel which are the milk and honey and the apple of God's eye that he once blessed both nations. Now if Obama is "taken out" could it be possible to put Hillary in for president? It could be possible! As we look in Revelation in chapter 17:3 we see a woman sitting on the beast. We know Hillary hates Christians and has taken part in the homosexual and lesbian movement.
Now in Revelation Chapter 18:7 we see (Hillary?) glorifies herself and lives deliciously. (Hillary?) says in her heart, " I sit as a queen and am no widow, and shall see no sorrow." How true that is today! She lives like a queen, not a widow and is rich and part of the world elite and won't see any sorrow. I'm beginning to wonder if Hillary will replace Obama if he is taken out soon? Nathan has mentioned that the Antichrist is not a human being, but a world system. We know Hillary is not the Antichrist because the Antichrist is a world system on seven mountains (continents) on which the woman (Hillary?) sits. (17:9) Could it be (Hillary?) in charge of America (Babylon) and to be drunk with the blood of the saints? (17:6) Hillary HAS the Jezebel spirit in her and Bill (Ahab) will be by her side backing her up!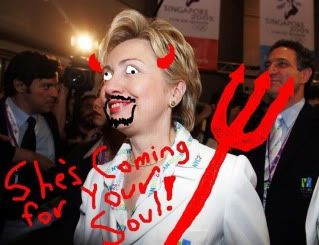 Now if this plays out in the future, we know Elijah will be sent out during the tribulation to America. (Malachi 4:5) Now if Hillary is president of America (Babylon), then once AGAIN we have the "Jezebel spirit" inside of Hillary who will try to hunt down Elijah and have him slayed again for preaching God's Word. But this time, Elijah is supernaturally protected by God and her effort will fail. Do you see the duality here? It seems to make some sense from what we read in Revelation! And with many of us remnants having dreams and visions of Hillary Clinton, maybe she DOES have some role in the book of Revelation? She does fit the characteristics, especially with all her familiar Jezebel faces.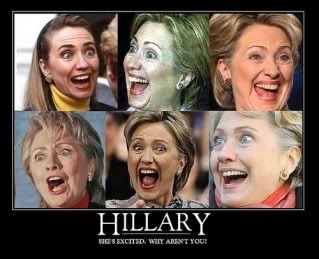 We know that history repeats itself over and over in the Bible and could it possibly be that this duality could come to fruitation in the near future? If so, it would be amazing. Maybe Nathan or Donna can offer some words of opinion here? I'm sure many of you after comparing the scripture I used here would like to express your own opinions on this possibility? We know Hillary is evil and she even uses the devil's horn sign in the picture below. So what do you have to say?